A woman kept her fabulous wedding dress a surprise up until the big day. She chose an unconventional gown and couldn't wait to show her loved ones. The response was unexpected, and she clapped back at the bullies.Camille Lescai was a bride with a mission to make a statement on her wedding day.
Her ceremony took place in November 2022, and she kept her gown a secret from her guests and bridal party, only asking everyone to wear white for the auspicious occasion.Lescai's request made sense when the attendees saw her walking down the aisle. She donned a gloriously unique creation valued at about $4,400, which perfectly suited her personality.
However, the ecstatic bride's decision wasn't welcomed by many netizens.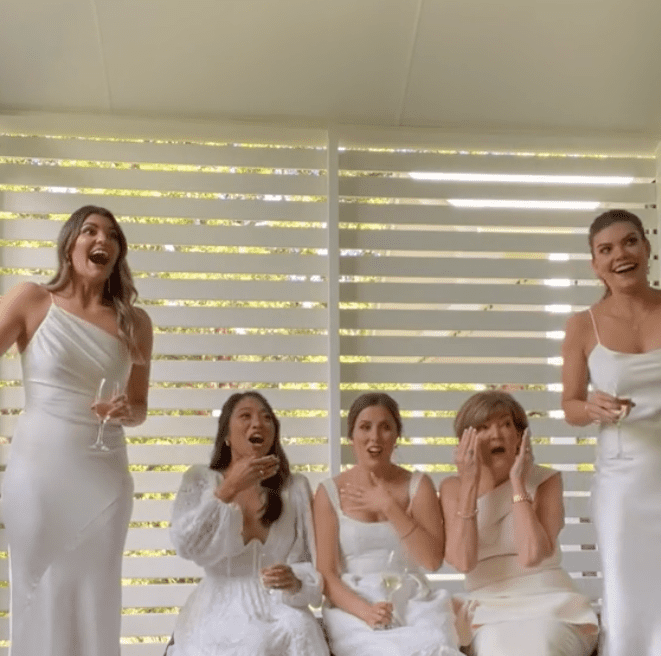 Camille Lescai's bridal party reacts to her wedding dress reveal. | Source: tiktok.com/https://www.tiktok.com/@camillelescai
She Bought the Dress of Her Dreams
A few days after Lescai's magical Sydney, Australia wedding, she shared a short clip of the big wedding dress reveal on TikTok.
The bride had about 300 followers, which consisted of friends and family. She was shocked when she discovered her post had gone viral.
The bride knew many people who had also chosen unconventional dresses or planned to do so would be hurt by the hateful comments, so she did something about the bullying and faced it head-on.
Shocked by Her Video's Popularity
Lescai's blush pink dress garnered lots of attention but for all the wrong reasons. With millions of views and countless comments, the bride and her dream dress became the target of online ridicule and hate. She shared:
"I was bewildered by the comments because I simply didn't expect it to go viral. I'm not an influencer, and didn't understand why so many people cared about what dress I wore or why they thought it was so controversial."
Rude Comments about the Bride's Unique Dress
Lescai read through the countless comments in disbelief. Many online users called her rose-colored gown "ugly," "dated," and even "trashy." Someone told her they would not have gone through with the wedding if they were the groom.
People also questioned why she was "trying so hard," and the rude comments appeared unending. One user wrote:
"My biggest fear is being a bridesmaid and the bride [wears something] like this, watching our reaction, and I need to pretend it looks good."
Others compared her dress to toilet paper and said it was a "big no" in their books. However, Lescai still adored her dress and did not want other opinions to taint her views.
Facing the Hatred Head-on
The bride had struggled with self-confidence during her teen years, but thankfully, she is in her thirties now. She was worried that the hate would affect other women who also wanted to wear a unique dress on their big day.
The bride knew many people who had also chosen unconventional dresses or planned to do so would be hurt by the hateful comments, so she did something about the bullying and faced it head-on.
Bride Responds to the Online Hate
Instead of shying away from the negative comments, Lescai posted a series of clips responding to the users who compared her dress to toilet paper, among other mean opinions.
She began by responding to nasty comments from accounts of people with usernames hiding their real identities. She believed they only had the guts to tear her down because of the level of anonymity, so she exposed them. Lescai explained:
"People might think that I should expect negative comments after posting anything online, but the flip argument [is] if you make nasty comments online, you should expect to be held to account. This was my way of taking the power back."
Support, Love, and an Important Lesson
While Lescai brought the hateful comments to light and comically responded to her haters, she was also thankful for the many positive commenters and hoped her story would encourage others to be different.
Many online community members expressed gratitude toward the brave bride. Her videos inspired them, and they were thankful she taught the bullies a lesson. Users also praised Lescai and applauded her actions:
"I wore a pink dress on my wedding day as well – I felt beautiful and like myself. You glow in that dress – it's gorgeous, and so are you!"
– (Molly Milazzo) January 5, 2022
"I absolutely love this dress! People are always going to have something shady to say. Regardless you got everyone's attention! Keep doing you, girl!"
– (Chad Cummins) January 15, 2022
"Absolutely gorgeous!!!! I absolutely love that you stayed true to yourself and your style for YOUR day. The end result was perfection."
– (randijohnsey) January 8, 2022
"Um … you look BEAUTIFUL. It's so different, and I love it! Ignore all the trolls here, please. They're what is wrong with today's world."
– (Lauren Ann Marie) January 6, 2022
After Lescai's response to the online hate, she noticed many of her critics had removed their comments. Hopefully, more people will think twice before tearing down others online. Well done, beautiful bride. Your unique style is stunning and inspiring!